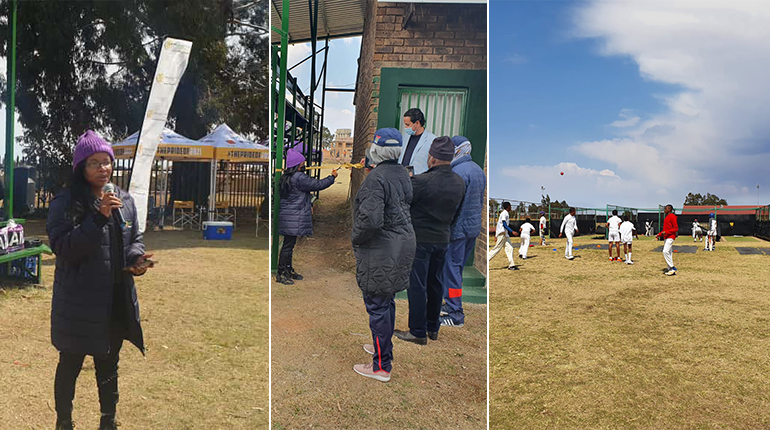 On Saturday, 28 August 2021, the Kagiso Cricket Club in partnership with Lions Cricket, Mogale City Local Municipality, Ashraful Aid and BRM Ribs unveiled the recently upgraded change rooms as part of the Unions transformation objectives. The facility represents a more modern and appealing environment with the sole purpose of creating a conducive and friendly environment for players, staff, visitors and management.
The Kagiso Sports Complex which is home to the Kagiso Cricket Club was the only Premier League A club in the country without change rooms which has always put the team at a disadvantage as they were unable to host any high-profile matches. "This is now a thing of the past as the clubhouse and seating areas are newly renovated thus puts the team one step closer to their goal of hosting larger tournaments," said Mogale City's Sport, Arts, Culture and Recreation MMC Charmaine Ntlatlane-Zwane.
The renovations were made possible through funding from Lions Cricket and support from many partners. In a brief interview, Lions' Chief Executive Office Jono Leaf-Wright expressed his pleasure with the renovations, "this is a proud day for us on our journey of levelling the playing fields. These renovations will not only add to the team's Cricket SA Blue-Chip Club status but will further ensure that Kagiso Cricket Club continues to produce quality players that the province and country needs."
ABOUT LIONS CRICKET
Central Gauteng Lions is the custodian of all cricket activities in the greater Sedibeng, West Rand, Vaal, and Johannesburg area and manages the Imperial Wanderers Stadium and Imperial Lions.
ABOUT KAGISO CRICKET CLUB (KCC)
KCC is a community cricket club affiliated under Central Gauteng Lions. They are a registered PBO and are based in Mogale City – Kagiso. The club is part of the Lions Cricket Club Premier League and other leagues within Lions club cricket structures and has recently been awarded Cricket SA Blue Chip status.
 Source: Lions Cricket
Related topics