MOGALE CITY
The City of human Origin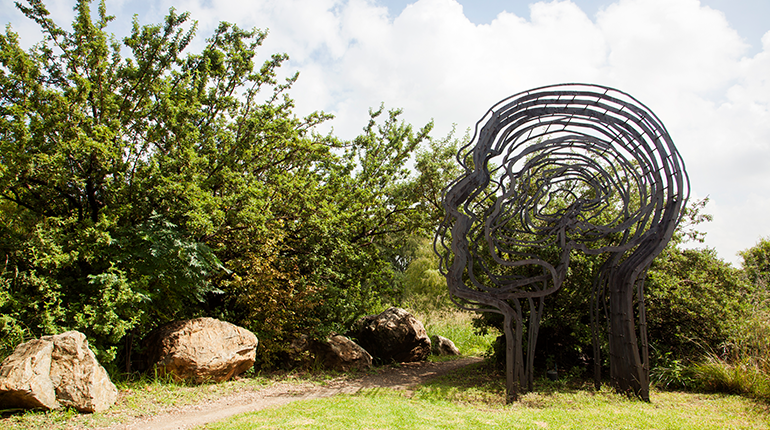 MEANDERING rivers, the vast Magaliesberg mountain range, tranquil countryside and the conveniences of urban life – Mogale City has something for everyone. It offers a sunny climate almost year-round, and while it has all modern comforts such as first-class hotels, African cuisine and excellent infrastructure, it is the spectacular scenery that gives this area its country charm. Mogale City is an easy 30-minute drive from Johannesburg or Pretoria, 20 minutes from Lanseria Airport, and 60 minutes from OR Tambo International Airport. Take in the beautiful and tranquil scenery of Kromdraai, Maanhaarsrand, and Hekpoort – all giving a hint of the intimate but stylish game reserves and lodges that abound. Mogale City's main town of Krugersdorp is a perfectly situated to explore Gauteng, equidistant to Johannesburg and Pretoria-Tshwane, and on the route to Rustenburg and the Pilanesberg in North West Province. The area has a rich history and culture that will interest any visitor. It is named after Mogale was Mogale, who took over the Po Chiefdom following the death of his father in the 1820s at the hands of Mzilikazi's warriors. The Batswana ba Po was one of the original tribes that inhabited the region. They were miners and traders of gold, with links to other peoples across the continent. The contribution made by the chief and his people was long ignored, but in 2001 their status was restored with the renaming of the municipality from Krugersdorp Local Council to Mogale City.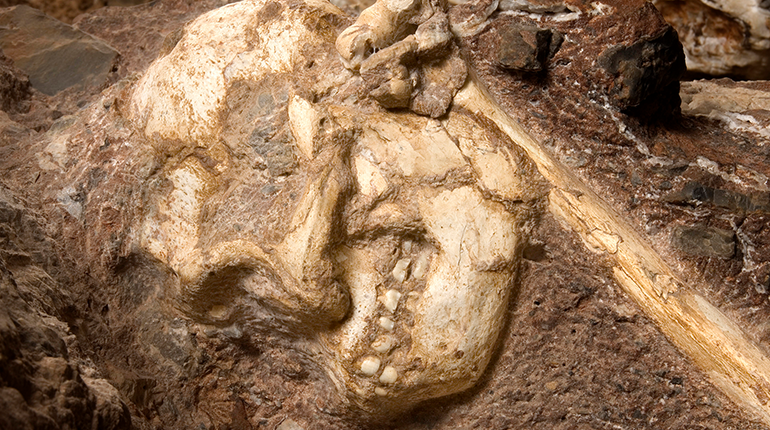 Human Origins
And, of course, it is where humans began – the City of Human Origin. In Mogale City, is the World Heritage Site of the Cradle of Humankind, in the Kromdraai area, one of the richest and oldest sources of fossils from our early human ancestors. Here, the Sterkfontein Caves have become famous for their archaeological treasures, including Mrs. Ples, the two-million-year-old female skull discovered in 1947. The most recent find has been that of an entirely new hominid species, Australopithecus sediba. Scientists believe that this fossil find will be the Rosetta stone of palaeoanthropology, the transitional species between Australopithecus and Homo. These fossil finds to add to Mogale City's status as the City of Human Origin, making it the ideal place for tourists to visit in the quest to find their roots.
Visitors can enjoy a variety of entertainment, including game drives, hiking trails, horse riding, and art exhibitions. There is an endless selection of African accessories, handcrafted objects, and glassware that will delight shoppers. It's located near Hartbeespoort Dam, which offers a wide range of boating and outdoor activities, and the spectacular Wonder Caves that take you back millions of years. The area is home to the Magaliesberg Meander, on which delightful arts and crafts are available from the artists' studios. And the Crocodile Ramble offers a variety of delightful guesthouses as well as up-market accommodation.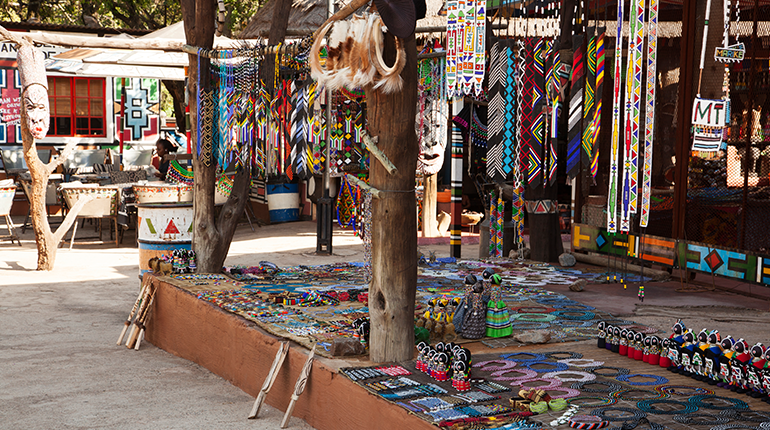 Cultural tourism
For a genuine African adventure, there is the Lesedi Cultural Village, which is a remarkable fusion of charming, authentic, earthy Africa in the heart of the bushveld. Visitors can enjoy African dishes, with lively music and cheerful chatter – a vibrancy that is uniquely township.
Learn about the traditional Xhosa, Zulu, Pedi, and Setswana cultures, and be entertained by traditional dancers, stories and songs in the living museums of this area. Of course, there are also the various townships and cities around Mogale City that are always worth visiting. Here you can get a real feel of life in Mogale City: Krugersdorp, where gold was discovered in 1887; Kagiso, where you can enjoy local music and dance and stop for a traditional meal; Munsieville, the childhood home of Archbishop Emeritus and Nobel Peace Prize recipient Desmond Tutu; and Azaadville, a largely Indian suburb where Ghandi once worked to help prevent forced removals.
There is a game reserve, on the outskirts of Krugersdorp, with 34 species of mammal, including lion, buffalo, and leopard on 1 400 hectares of bushveld. Game drives can be either self-drive on tarred roads or guided game drives in open vehicles. It is also home to the largest aviary in Africa. Enjoy environmental hiking trails, game viewing, cave tours, visits to an old Gold Mine, ox-wagon rides, a visit to a children's farm or go camping. Mogale City provides different facilities for sport and recreation. There is a world-class athletics stadium, excellent golf courses, an ice-rink as well as facilities for drag racing, 4×4 driving trails, and much more. For the adventurer, the unique experience of hot-air ballooning is a rather exciting and eccentric adventure in space and time. A further aerial adventure is microlight flying. Accommodation for visitors varies from B&Bs, guesthouses, and lodges, to luxury resorts. The area is very popular for its wedding and conference facilities. These offerings dot the entire city; from the townships to the tranquil rural areas. The oldest gold mine in Gauteng, the Blaaubank Mine, and the oldest mountain, Magaliesberg Mountain, are found here. Visit the Krugersdorp and Magaliesburg museums to find out more about the history of this remarkable place.
Call Centre
0861 664 253
customerservices@mogalecity.gov.za
07:30 AM - 16:00 PM
Monday to Friday
WhatsApp Line: Water, Sewer and Electricity queries
083 787 2814
Switch Board
011 951 2000
Emergencies & After hours
011 951 3000
011 010 1500
Saturday, Sunday & Public Holidays
Police
011 951 1153/2